Update Monday 12th April 2021:
We are delighted to announce that we aim to fully re-open on Monday 17th May 2021, following the government's roadmap and covid guidelines.
We are taking bookings now.
Update Saturday 26th December 2020:
We will be closed until further notice due to government Covid-19 restrictions.
Update Friday 27th November 2020:
We will be open for Key Workers and Essential Business Travel from Sunday 29th November 2020.
We will be open with Tier 2 restrictions from Thursday 3rd December 2020.
Update Friday 13th November 2020:
We will be closed for the next 2 weeks and look forward to welcoming you back in December.
Essential business travellers please call 01793741010 or email Welcome@ChiseldonHouse.com to book.
Update Thursday 5th November 2020:
We are open for essential business travellers in accordance with current Government Covid-19 Regulations.
Booking is essential, please call 01793741010 or email to book.
Our Restaurant is serving take away Afternoon Tea. Pre-ordering is essential. Please call or email to book.
Update Thursday 24th September 2020: Face Coverings
With a change in government policy, please wear face coverings in all indoor public areas of the hotel, including corridors and restaurant, with the exception of when you are eating and drinking. You do not need to wear face coverings in your bedroom. Thank you for your co-operation.
NHS Track & Trace QR code available at entrances and Reception.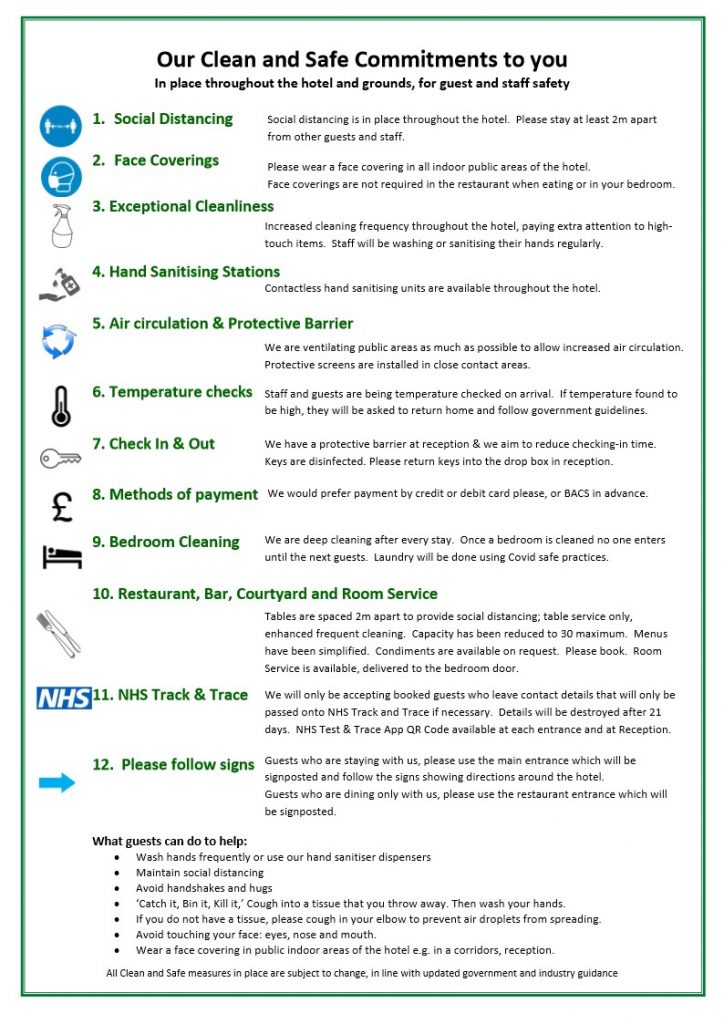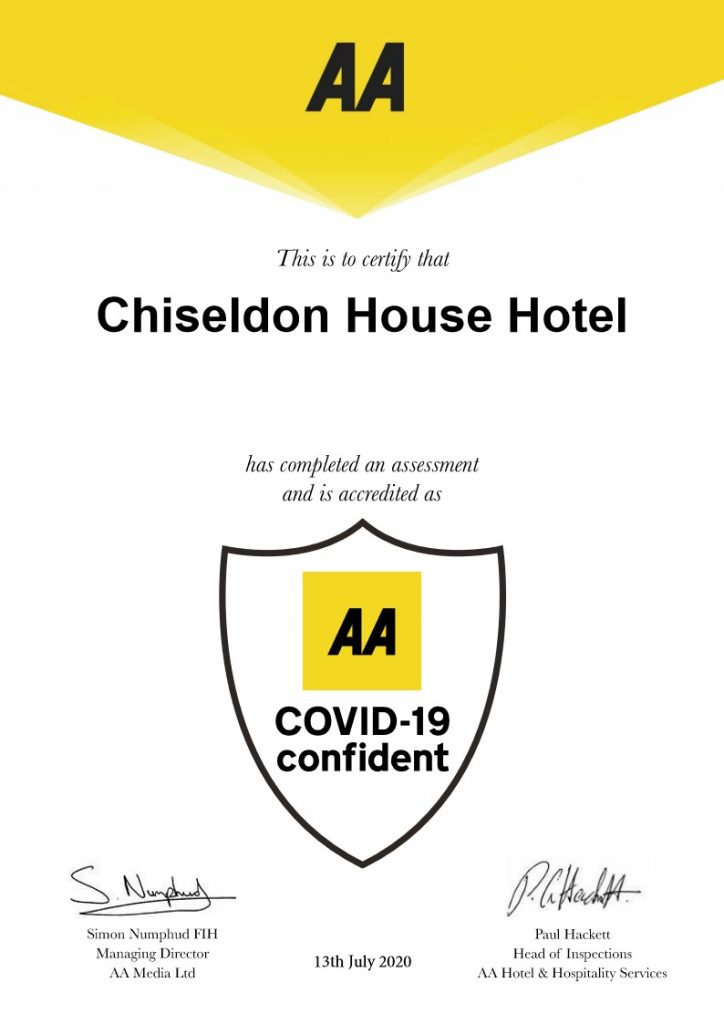 Saturday 18th July:
Afternoon Tea Reopening, available indoors and outside
Tuesday 21st July:
Bedrooms and Restaurant with Courtyard Reopening, see Menu
Take Away restarts with our 'Call and Collect Take Away Menu'
Sunday 26th July:
Sunday Lunch restarts, see Menu
We are taking booking now!
On Saturday 18th and Sunday 19th July 2020 we are open for Afternoon Tea, both inside in our Restaurant or outside in the Courtyard and Gardens. We are taking bookings now.
Renowned Chef Patron, Martin White, is introducing a 'Taste of Wiltshire Menu', an enticing short menu featuring local produce. This will be available in our restaurant and outside in the courtyard from Tuesday 21st July.
Responding to requests we will be offering a 'Call and Collect Take Away Menu' as well as 'Afternoon Tea At Home'. Telephone orders are being accepted from Tuesday 21st July.
Rooms have been deep cleaned and Covid compliance readied. Our Bedrooms and Restaurant reopen on Tuesday 21st July 2020.
Accepting reservations now for Tuesday 21st July onwards in the restaurant, courtyard and for bedrooms.
We have taken steps and precautions to protect our guests and staff from Covid-19. We have achieved the AA Covid-19 Confident Accreditation. Our spacious restaurant and courtyard now has a maximum capacity of 30 with tables spaced at 2m apart for the safety and enjoyment of guests.
We look forward to seeing you!
Should you wish to clarify any concerns on the precautions around Covid-19 please contact us by phone or by email welcome@chiseldonhouse.com
---
Covid -19 Symptoms
Covid-19 is an infectious respiratory virus. The main symptoms are:
a new continuous cough
a high temperature
a loss of, or change in, your normal sense of taste or smell (anosmia)
If you or someone in your household develop symptoms you must self-isolate at home, DO NOT COME TO THE HOTEL, follow stay at home guidance. Please arrange to have a test by visiting NHS Coronavirus testing website (click here) or contacting NHS Coronavirus testing service on 119 by telephone if you do not have internet access.
Our thanks go out to all those working on the front line
and our thoughts to anyone who has been personally impacted.